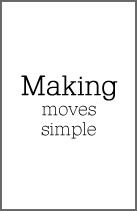 Moving homes can be stressful.  Let our experts consult and help you simplify your move with moving advice and tips.
      We strive to make it simple and advise you according to your needs.
All of our household moves include:
*Covered Box Truck
*Furniture assemble/disassembly
*Furniture padding
*Shrink wrap
*Moving equipment
*Courteous and efficient service
*Office relocations
Our rates are inclusive of truck, labor, assembly, moving equipment and protecting bulky furniture.  All beds, fabric furniture, dressers are protected with shrink wrap and large furniture are protected with moving pads.
*ALL RATES ARE SUBJECT TO HAWAII SALES TAX